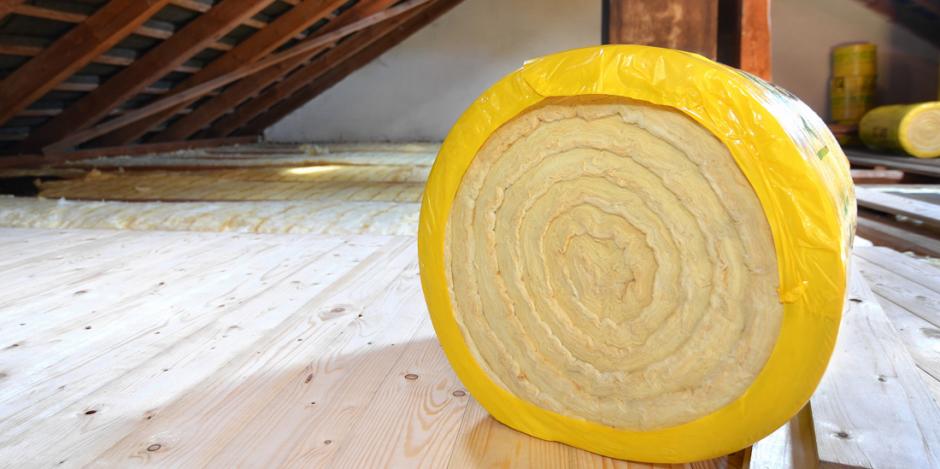 Most homes in our Peoria, IL, area have insufficient amounts of insulation in the walls, attics, basements or crawl spaces. An assessment of your home's insulation, draft and comfort levels will establish any energy cost savings you may benefit from.
What Does Insulation Do in My Home?
Insulation — often made of fiberglass or cellulose —  is designed to act as a barrier to heat passing through your home's envelope, which is defined as the roof, walls, and floors of your home. In the summer, insulation keeps heat out, and in the winter it keeps your warm air inside. The effectiveness of insulation in stopping this transfer of heat is measured with an R-value. The higher the R-value, the more effective the insulation.
How Does Air Sealing Improve Insulation?
When a home is leaking air through even small gaps and cracks, the insulation is less effective at keeping heating and cooling in your home. When replacing insulation, it's important to seal off those little cracks and gaps to allow the insulation to do its job. Generally, the gaps are sealed with a spray foam that expands to seal the air leakage. Air sealing a home is one of the most important aspects of an attic insulation upgrade. Green Homes Illinois recommends air sealing prior to any insulation install.
How Much Insulation Does My Home Need?
The recommended amount for new homes in our area calls for attic insulation that measures R-49 which equals 16 inches of insulation. Walls and basements or crawlspaces require R-15 which equals 3.5 inches. Many homeowners don't know how much insulation is in the attic or walls of their homes.
Typical homes in the Peoria and Pekin area have the following insulation levels based on the age of the home. These can vary based on previous upgrades but are fairly typical for most homes.
Pre-1920 - Little to no insulation was used during this timeframe.
1920 to 1960 - These homes usually fall into the range of no insulation up to 3.5 inches (R-0 through R-9) and have some of the highest energy bills.
1960 to 1980 - These homes might have slightly more insulation but are typically well below the recommended amount. They have between 3.5 inches (R-9) up to 6.5 inches (R-19) of insulation.
1980 to 1995 - Homes in this age range have between 3.5 inches (R-9) up to 10 inches (R-30). They still have room for improvement and comfort upgrades.
1995 to present - In 1995, Illinois adopted efficiency codes that required at least 10 inches (R-30) in most homes. Homes built today come with 16 inches (R-49), therefore, improvements can still be found even in fairly recent builds.
Green Homes Illinois can conduct an energy audit to measure your home's existing insulation, as well as inspect and test other systems in your home that work together to keep you comfortable. While there are many types of insulation products available, a majority of homeowners choose cellulose insulation for its low-cost, high-insulating factor and ease of application.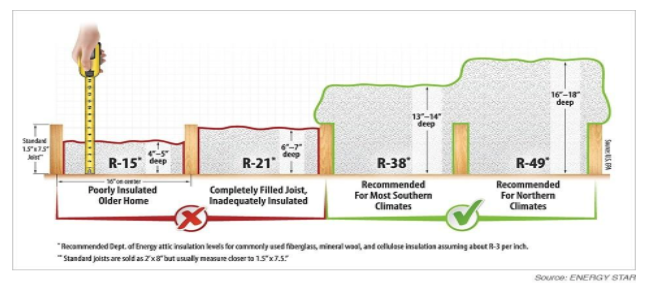 Why Is Basement Insulation Important?
Keeping your basement or crawl space insulated is another good idea to reduce energy costs and keep your home comfortable. Insulation is generally installed at the top of the foundation wall and between the joists. Sealing your unheated crawl space or basement from the living areas of your home can prevent excess condensation and moisture build-up. Keeping this space dry will prevent mold and mildew growth, which can seep into your home causing poor indoor air quality, unpleasant smells and health concerns.
How Much Does an Insulation Upgrade Cost?
Of course, each home is different, but Green Homes Illinois can help you identify the available rebates, as well as federal and state tax rebates. The best part of improving your home's insulation is that energy savings start from the very first day!
Get answers to your home insulation questions! Contact us or call 309-424-6101 for a home energy audit.

Are you ready for a more comfortable home?
See how much insulation could help!
309-424-6101
What Our Customers Are Saying